Tendulkar Asks Followers To Tag Friends With Phone Numbers. Got Slammed & Then Deleted Tweet
If we have to count, India's most noble persons on fingertips, Sachin Tendulkar will be one name for sure. The man has earned a lot of respect in his lifetime and has been titled the "God Of Cricket" by millions of fans.
But the God has surrounded himself in a controversy lately and he is now regretting it for sure.
Sachin Tendulkar in collaboration with IDBI Federal Life Insurance – the promoters of the Kochi, Mumbai, Kolkata and New Delhi marathon, tweeted on Monday asking people to share their friends' contact numbers along with city names who need fitness inspiration.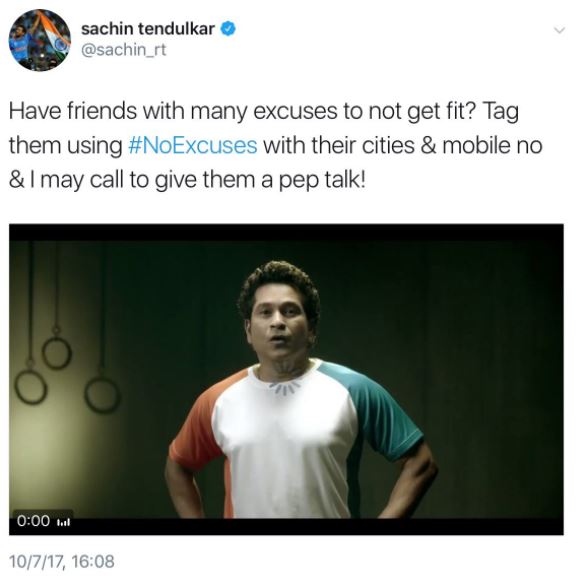 "Have friends with many excuses to not get fit? Tag them using #NoExcuses with their cities & mobile no & I may call to give them a pep talk!"
Now, read this tweet once and you'd know how harmful such act can be. I mean, it's not a social media game where you are tagging your friends in memes. It's a contact number, Man! and any individual or company who is hungry for such data can misuse it.
Thankfully the issue was solved in its inception when Troy Hunt who is known for creating the data breach search service Have I Been Pwned?, as well as for authoring several popular security-related courses tweeted regarding the same.
How do you mine troves of phone numbers from Indians? Get a famous cricketer to politely ask people to dox their friends! #NoExcuses
He further tweeted-
Would it be too meta if I scraped these numbers off #NoExcuses then paid an Indian call centre to phone and ask for the tweet to be deleted?
Here's how the other users reacted to it.
1
2
3
4
And, as we said above, he was quick to realise the mistake and deleted the tweet soon.
We appreciate the effort Mr. Tendulkar, but we wish you'd have given a little bit of thought about it before posting. Still, better late than never. We'll rest the case here.